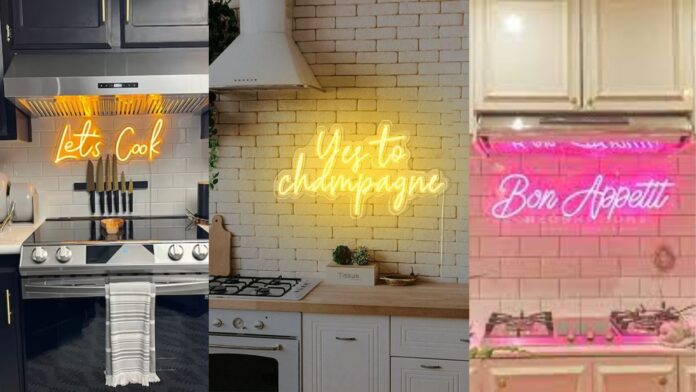 Adding a neon sign to your kitchen can be a great way to include some persona and style into the space. Not only do they look cool, but they also create an inviting atmosphere. Whether you are looking for something fun and funky or something more subtle and sophisticated, there is sure to be an option that suits your tastes.
Because more and more people are incorporating these cool and fun signs into their kitchen space, manufacturers have started to produce innovative neon signs to attract more customers. If you are also thinking about getting a neon kitchen sign but don't know what to get, this article is just for you. we will take a look at some of the most innovative kitchen neon signs available on the market today. Read on till the end!
Most Innovative Kitchen Neon Signs To Choose
The Pizza Slice Neon Sign
These fun and quirky pizza slice neon signs are perfect for those who love pizza. The vibrant red, yellow, and orange colors of this sign will make it the centerpiece of any kitchen space, while its unique design will make it stand out. This sign is highly durable and can be easily hung up in any kitchen without taking up too much space. And if you think a pizza emoji is too simple you can always get yourself a fun quote involving pizza like "All you need is love and pizza".
A Vegetable Neon Sign
Now you can enjoy an unforgettable vibe in your kitchen with a vegetable-themed neon sign. Enjoy the illuminated shapes of pumpkins, squash, potatoes, carrots, and beets designed in an iconic art deco style. Put it behind the counter or near your dining table for a unique lighting solution that will turn your kitchen into an inviting one-of-a-kind space.
A Kitchen Utensil or Cutlery Sign
Kitchen utensils or cutlery neon signs come in a variety of colors and designs. From classic silver knives and forks to quirky cooking pot silhouettes, you can easily find something to match your style. Plus, the flicker of the neon light is sure to be a great conversation piece during dinner parties! Not only that, but it will brighten up your kitchen and help tie the room together with its vibrant colors.
Cupcake or Ice Cream Sign
What better way to add a little sweetness (and light) into your space than with an adorable cupcake or ice cream cone sign? Adding these neon signs in your kitchen space will make it appear endlessly more inviting, as well as stylish. The dazzling nature of the sign is sure to turn any cooking session into an enjoyable and memorable occasion.
Food Pickup Lines and Kitchen Quotes
Food Pickup Lines and Kitchen Quotes Neon Sign for your kitchen space would be the perfect way to lighten up any gathering of friends or family. Whether it's a quick lunch with your squad, a dinner party for your closest friends, or an intimate night in for two, illuminating your wall with inspiring phrases and romantic lines can transform any meal into something really special and can even give a restaurant feel. With so much warmth glowing from the neon sign, it's sure to create happy memories in the kitchen that you'll never forget!
Final word
Whether you're looking for functional décor items or pieces that simply add visual appeal—neon signs are always surefire ways to spice up any room! Plus they add an extra layer of brightness that traditional bulbs just don't provide. With all these options available, there's no doubt that adding neon signage into your kitchen will help elevate its design aesthetic while also bringing warmth and personality into the mix!